About
Vedic Yoga Foundation

– Registered Yoga School in Rishikesh, India

Yoga is a widely misunderstood concept. It is a set of physical, mental, and spiritual practices or disciplines which originated in ancient India more than 3000 years ago. Its purpose is to help each one of us achieve our highest potential and to experience enduring health and happiness. It is a harmony of the mind, body and breath.
Vedic yoga foundation is a school for
yoga teacher training in Rishikesh, India.
It offers for the yoga seekers, a course of
200-hour yoga teacher training in Rishikesh
that would help them learn yoga, improve their skills and to become a yoga instructor with certification in Yoga tecaher training in Rishikesh, India. This course is certified with
Yoga Alliance, USA
which means one can practice and teach yoga across international boundaries. The main focus of our Yoga TTC in Rishikesh is to train well-qualified yoga teachers and improve their skills to the next level so that they can spread the awareness of yoga to the worldwide. We have a mission to remove anxiety, depression from modern society as well. In addition, we focus on remedial personal and family problems by practicing simple, realistic, and traditional yoga with multi-style poses.
Our Yoga TTC in Rishikesh will allow the students to build up a superior knowledge and develop the routine with regards to yoga. It avails the students in shaping early dreams in all circles of yogic practice and also offers them an opportunity to journey into the depths of yoga practice around the world. Our Yoga TTC in Rishikesh also invites everyone to experience and realize the real meaning of yoga by understanding its simple, integrated and holistic techniques.
This internationally certified yoga teacher training in Rishikesh allows you to carve a career path for yourself and impart knowledge to others, or just deepen your practice and improve your health and wellbeing. Our aim is to bring an authentic Ashtanga and Hatha yoga teacher training experience in Rishikesh to our students and through our yoga TTC programs and courses transform them into certified teachers as well as experienced and passionate yoga practitioners. Our faculty consists of yogis with years of practice and discipline who will take you on a journey into the spiritual world of yoga. Our training courses are conducted by highly experienced and dedicated yoga instructors who seek to fill real qualities of a yogi in those who come to practice and study Hatha and Ashtanga yoga at Vedic Yoga Foundation. We believe in sharing yoga in a way that brings proper balance between the bodies, minds and souls of our students so that they may bring more happiness, stability, and peace into their lives. Not only will this course make you a highly qualified Yoga Teacher/Practitioner, it will also help you grow your network, give you an opportunity to make new friends across the world and explore new cultures.
This Yoga teacher training in Rishikesh will also help you discover how our various cultures are bound together and how you can enrich your culture back home. In addition to the different forms of yoga, we also offer an insight into Indian cooking and Ayurveda. Ayurveda is a system of medicine with historical roots in India, believed to have originated during Indus Valley Civilization. We are the only Yoga Institute to include Ayurveda in the curriculum, making us different from other Yoga Institutes. We also take students on excursions to experience the Ganga aarti, river rafting and other extra-curricular activities.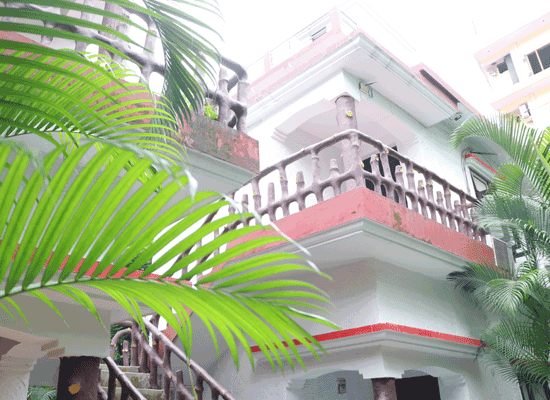 Guru
Ji

Swami Ashutosh Anand ji is a divine soul reincarnated in this world with the sole purpose of uplifting people to a spiritual level. He has been living an austere life since his childhood. He has done his Sadhna (deep meditation practice) in the Himalayas for many years.
That was when he was enlightened with a profound knowledge of spirituality and was incubated into the mysteries of the world and the worlds beyond. He, being a selfless soul decided to impart his knowledge to people seeking the divine path so that they too experience the flow of Pure Consciousness like he did, therefore resulting in them rising above pain, sorrow and other worldly problems.
Vedic Yoga Foundation is being operated and run under his Holy guidance and mentorship. Blessed are those who learn under the direction of this revered soul.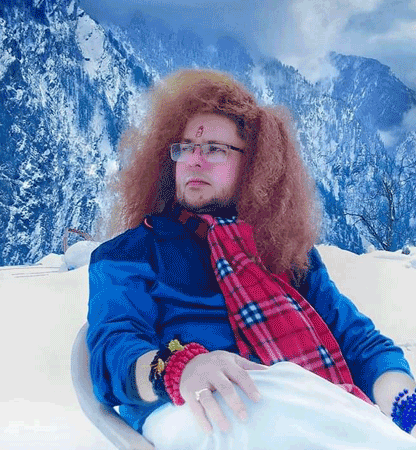 Why Should We Choose
Yoga Teacher Training School in Rishikesh, India?

Yoga Teacher Training in Rishikesh, also Known as the Yoga Capital of World, is what the world looks at when it comes to learning and practicing yoga but very few have written the reasons behind the yogic and spiritual significance of the place.

Yoga is a spiritual science that originated in India. Yoga was born before religion was born. It existed even before civilization dawned.
Yoga school in Rishikesh is a land where many spiritual seekers find their path leading to their destiny. They come here to become one with the Supreme Being. They have made this place holy by their cumulative meditative energy, thus creating an environment charged with positivity and mystic powers, making it conducive to learn yoga and meditation.
Besides that, Rishikesh is situated in the foothills of the mighty Himalayas surrounded by astounding scenic beauty. Nature presents herself in her best attire here. The holy Ganges River runs through this city. The city is renowned for the study of yoga and meditation. Temples and Ashrams line the eastern bank of the river.
Rishikesh is also a tourist's joy. There are many things one can do here from visiting temples to river rafting to viewing the Ganga aarti, a mystical experience in itself. It is a nature lover's dream come true.
Rishikesh has a pleasant climate for most of the year. As it is located in the hilly terrains, the climate is never extreme making it a destination that can be visited any time of the year. The maximum temperature recorded so far is 27.7 degree Celsius and the minimum temperature of Rishikesh is 14.6 degree Celsius. Precipitation is frequent.
About
Yoga course in Rishikesh

Yoga is a subject that needs to be inculcated in every individual's routine. Yoga is effective for the overall wellbeing of a person and the masses in general. Yoga changes a person's perspective. It regulates the mind and thinking, thus making a person humble and peace loving instantly. The wider yoga spreads, influencing a wider audience, the better the world becomes. It was with this aim that we began this institution. In order to achieve this, we believe that a 200 hour yoga teacher training in Rishikesh is sufficient. Once the idea has been implanted in the minds of people, they will take it far and wide. And to achieve that, Coaching of RYS 200-hour yoga teacher training in Rishikesh is an adequate. Of course, once the coaching is done, the individual has to keep up with the practice on a regular basis and continue imparting the knowledge of yoga education to the others.
Why Does Vedic Yoga Foundation Charge So Less For The
Yoga TTC Course in Rishikesh, India?

Vedic Yoga Foundation, a Yoga Ashram India, does not aim at making a profit. We are clear on our motto to spread yoga across the world.
We believe that money should never be the reason for someone to be deprived of an education, and that too in such an austere subject. Therefore, we charge an affordable fee for yoga teacher training in Rishikesh which includes the course materials, the accommodation and food.
We may compromise on our profit, but we never compromise on our quality of education, hygiene and sanitation, nutrition and hospitality.